The term Embroidery encompasses a lot of stitches and styles.  Crewelwork is actually a type of surface embroidery.  Usually, when we talk about embroidery we are talking about outlining and filling in areas on a piece of fabric.
There are special needles that are used and the size depends on the type of thread you choose to use and the fabric you are using.
The thread choices are quite expansive.  Floss, pearl cotton, and ribbon are just a few of them.  Patterns can be traced onto a background piece of fabric, or you can purchase many prestamped pieces.  Many stores sell the iron on patterns too.
Embroidery that is only done in one color is called redwork.  I am not sure if you call work done in a single color that is not red if it is called blue work or blackwork, etc.  The traditional one color embroidery is red.
This is an example of redwork.  Sometimes an outline is all that is done, sometimes small areas are filled in.
This is an example of pearl cotton.  There are several manufacturers of pearl cotton that can be purchased.  The size of the pearl cotton you use will change how the stitches look.  Quality is important when embroidering.
This is embroidery floss.  Usually, you separate the strands into sets of two.  Most embroidery patterns call for using two strands.  You should not cut your floss too long as it will tangle while you are stitching.  Again there are many manufacturers of the floss.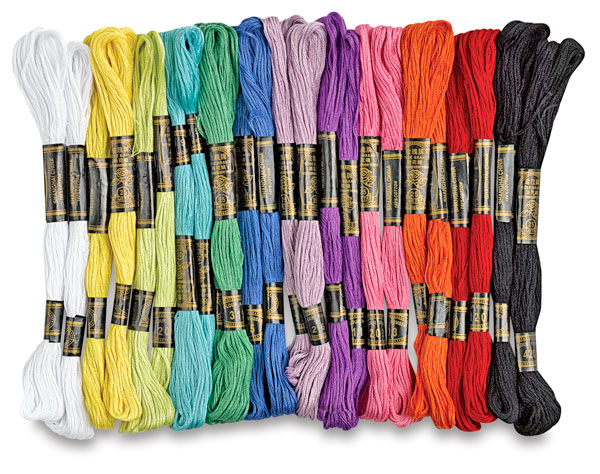 Here is a chart with needle sizes and pearl cotton sizes.  As you can see, the size you choose will change the look of your stitches.
There are many, many embroidery stitches.  Too many to list here, but there are several sources that you can get that list them all and give instruction as to how to make them.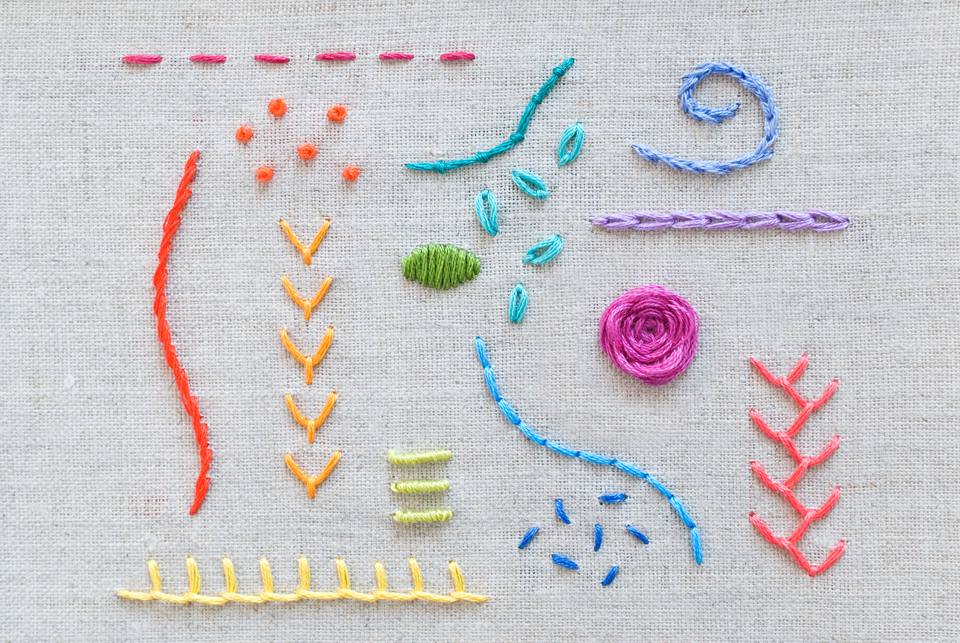 This is a sample of the most basic stitches.  There are many online resources that you can obtain instruction for free.
The last type of embroidery I want to mention is machine embroidery.  This is fun to do especially if you have little ones around you sew for.  I love to put little sayings and cute animals on my granddaughter's tee shirts.  It's also nice to monogram with an embroidery machine.  You can tell the difference between hand and machine embroidery.  It's just a matter if you like using a machine more than hand sewing.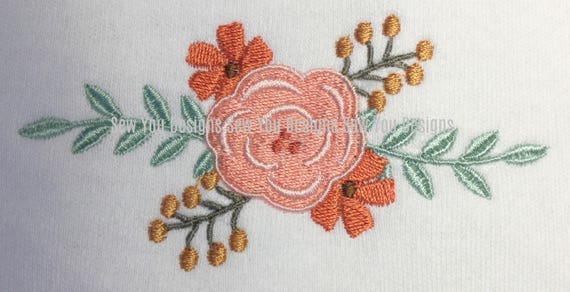 This is an example of machine embroidery.
When you are making an embroidery piece a hoop is used.  There are many types of hoops on the market.  Some are metal, some are wood, some are plastic some are round and some are square.  There really isn't any right hoop or wrong hoop.  It's what you are comfortable using.
I learned to embroider with a metal hoop.  It was given to me in the 1950's.  I used it for a very long time.  The only problem I see with using a metal hoop is that they do eventually lose their finish and can put marks on your piece.  When that happened to my metal hoop I switched to a wooden one.  Now I use plastic hoops.  They make them now with a stop on the hoop so that you don't push the hooped piece through the outer hoop.
When you are making an embroidery piece it is very important that when you are done stitching for the day you do not leave your needle in the fabric.  if you have excess around your piece you can stick it through that area, but never leave it where the stitching is.  If for some reason you don't get back to that project for a long time, the needle can rust and stain your piece.
My mother had started a stamped tablecloth after she married my dad.  She had done a small amount of the work and put it away.  Years later after I was married it wound up with me.  I opened it up and the needle had stained the tablecloth.  I worked on that stain to see if I could get it out and I was unable to.  I was able to stitch over it by adding a small branch into the design.  I was lucky.  Another project I had left a needle was ruined.
Embroidery is fun and relaxing.  Projects work up quickly and you get better the more you do.  If you like to have something to do when sitting in front of the TV, I suggest giving embroidery a try.
Wanda